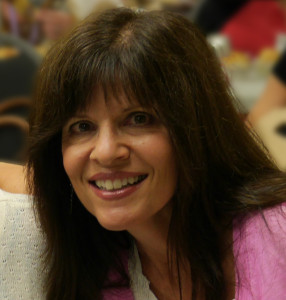 Sandy Platamone, a nurse at Hospice Care of the West, holds a knowing presence at the bedside with her patients and their families. They are relieved to have her there to listen, understand, take away the pain and help navigate the unknown. Living with dying is a familiar landscape. Like a veteran, she knows every piece of the terrain.
Though, Sandy will tell you, she took a detour on her way to becoming an R.N. Since, as long as she can remember she wanted to be a nurse. Sandy recalls sitting down everyday after kindergarten to watch the soap opera General Hospital. She stared at the nurses and envisioned herself as one of them.
She practiced her nursing skills on hurt animals or sick friends in the neighborhood. If a bird fell out of a tree, she would turn a shoebox into a makeshift nest and nurse the bird back to health. Her nurturing spirit comes from her mother, a typical '50s homemaker, yet a fiery, strong, passionate Italian woman. Her love for service to others came from her father, the quintessential servant as a World War II veteran and the neighborhood mailman.
She grew up in an Italian family and home, as the middle and only girl between two brothers in Temple City. Some of her favorite memories growing up play out in the kitchen learning to cook at her mother's side, which inspired her to study nutrition in college. By the time she graduated with a Bachelor of Science in home economics from Cal Poly San Luis Obispo, she grew tired of food and recipes. She was ready to see the world.
Sandy became a flight attendant and joined Air America transporting military personnel on charters into Cairo, all over the Middle East, Panama and Asia. At times, she flew for 24 hours straight. That meant coping with crisis in the air, thousands of feet above the ground.
Around her 28th birthday, she felt the call to ground her life. She realized it was time to settle down, find a husband and become a nurse. She worked in the office at Air America during the week, attended school at night and then flew to Honolulu and back as a flight attendant every weekend.
At Air America, she met a guy named Tony Shima from Iowa and he asked her out that day. On their first date, she remembers walking with him on the beach, her favorite place. Not long after, he became a firefighter with the City of Burbank. And Sandy became a nurse at Little Company of Mary Hospital in Torrance. Life unfolded so perfectly that before she knew it, Tony asked for her hand in marriage, yet Sandy stalled. She loved being independent, but then she gave in realizing that she loved Tony more. They honeymooned in Big Bear. Tony came into the family as a shy quiet country boy but quickly became an honorary Italian. Within a few years, Sandy gave birth to a beautiful baby girl, Kelsey.
Life was rise until Sandy's mother was diagnosed with leukemia, shortly after Kelsey's third birthday. And then, Tony was diagnosed with colon cancer a few months later.
"It was April 4th 2000, he was only 39," Sandy said. "I'll never forget the day when we were at the hospital where I worked. And one of my friends who was his surgeon said, 'Sandy, I'm so sorry to tell you this but, the cancer has extensively metastasized to his liver.'"
Thrown into the cancer lifestyle, Sandy and Tony adapted to chemotherapy, the clinical trials and the nausea. It was like a roller coaster. By summer's end, Sandy's mother entered an in-patient hospice. Her mother's pain was not controlled.
Sandy sat on her mother's deathbed and wept. Her mother summoned every bit of fire left in her soul to say, "You got to be strong, Sandy."
When she died, Sandy could not grieve. She had to dig deep and keep going for Tony. It was then she made a vow that her husband would be in no pain, like her mother was.
Knowing it was their last Christmas together, Sandy arranged a trip to the mountains to stay in the very same cabin that they honeymooned in. Tony was determined to build his daughter a bike. The task proved difficult because of the altitude. Battling shortness of breath, he powered through and experienced the joy of his daughter receiving her first bike on Christmas morning.
"Kelsey was so excited," Sandy said. "It was special because it was our last family time together."
By January, he suffered. At one point, Sandy said to Tony, "You don't have to do this anymore." And he said, "I'm going to keep fighting." He was so worried about taking care of his wife and his daughter. He wanted to buy a house. He didn't want to let go of this beautiful life they built together. About a month later, he realized she was right.
"We said, everything we had to say to each other. Mostly, I would apologize for not marrying him sooner," she said with a chuckle.
Hospice came. At the time, as a hospital nurse focused on curative care, she barely knew what hospice was. She dismissed the care, except for the social worker.
"I wouldn't let anybody do anything," she said. "I was his nurse.  It was how I coped. Sometimes, I think, God put him in my life because I was going to be the one to help him die."
She bathed him, administered his medications to ensure he was in no pain, and lovingly cared for his every need until his last breath in their home. It was less than a year, 11 months between Tony's diagnosis, her mother's death and his last breath, yet they played in her mind slowly, over and over, reel by reel, like a bad movie after Tony died.
Sandy could no longer live in their home. She moved to San Clemente. She found the ocean view home that became the sanctuary for her grief and then a church and community that brought a new season of life for Sandy and Kelsey.
"I don't know if my Mom and Tony were looking out for me but I got my ocean view," she said. Sandy took time off to be a mother to Kelsey as she entered kindergarten then grade school. Around the time Kelsey was in third grade, Sandy mentioned to a friend she was ready to go back to work. Her friend suggested she reach out to gal she knew who ran a homecare company.
"The homecare company turned out to be a hospice," Sandy said. "You know I feel like I could never teach somebody how to breastfeed until I had Kelsey. After going through hospice with my Mom and Tony, I just knew what to do. So, hospice found me. The pieces of the puzzle of my life finally came together. Looking back, the wisdom that I'll pass on to my daughter is serve others, people and animals."
This past summer, Sandy caught glimpses of Tony living on in her daughter at a Dude Ranch in Wyoming.
"Kelsey fell in love with the country, and caring for animals, she is a country girl just like her Dad."