Watch the Life Review Video on John Marting and read the excerpt on his life review from my book Parting Ways…On a rainy winter afternoon, John Marting sat poised in an oversized chair surrounded by his sons, grandson, daughters-in-law and wife, for his video recorded life review interview. He emanated a stalwart fatherly presence epitomizing the "Greatest Generation" defined by Tom Brokaw as the young GIs devoted to their country, prosperity of the middle class and above all loyal to their families.
http://youtu.be/_yRKRtf53rM
"Alright everyone," said Donna Miller, a hospice practitioner, drawing the attention of John's family. As the clock ticked loudly toward John's eleventh hour, Donna, founder of the life review video program at Hospice Care of the West, raced against time to rescue and record John's life story, in his own voice,
to leave as a parting gift to his family and future generations. He battled lung cancer and Alzheimer's disease like a bull and lived beyond his physician's prognosis.
She craned over to view the monitor atop a digital video camera on a tripod operated by the cameraman, Robert, a 54 year-old high school teacher and hospice volunteer. She gave him the
cue. He hit record.
On the screen, John sat against a backdrop of his prized possessions—framed pictures of his sons, Larry and Richard at their college graduations, now both are in their mid-50s, and his 50th wedding anniversary picture with his wife. His face animated to a smile radiating his laugh lines, whiting temples and creases on his baldhead, when his daughter-in-law approached him.
"You're a movie star today Dad," she said upon embracing John.
"Thank you," he said.
"You're a superstar to us everyday. We love you Dad," his daughter-in-law said.
His wife Marjorie, a petite woman exuding a regal presence, sashayed up to John and pursed her lips together. She was a year his junior. They sweetly kissed each other and she said in a soft voice, "I love you."
"I love you too," John beamed up at Marjorie and then turned to the camera. "I'm glad I married this woman."
Richard, John's youngest son standing 6'4 lent down to noticeably relish a long embrace. Larry, a brawn rugged guy, gingerly approached his father. Instead of hugging, they sort of awkwardly rubbed cheeks. John's grandson, 21-year-old Dan Marting, swooped in and whispered, "I love you grandpa" and hugged him. Richard lived nearby in Newport Beach, but Larry's family drove more than 100 miles to participate in this unique event.
John carefully took long gazes at each of his family members and surprisingly remarked, "I've never felt so much warmth and love in this room."
He was right, the warmth and love was palpable, and often is after the parade of affection that Donna suggests at the opening of every life review video. It melts the tension.
"Are you ready John?" Donna asked.
"Yeah," he said with a big grin. "I don't have any secrets, so go ahead."
"Well, if you have secrets, they might make this even better," she said.
Before Donna started, she invited the family to jump in and ask questions upon inspiration then she led John on a reminiscing tour of his life starting with his birth and boyhood in Missouri. He spoke fondly of his mother, a homemaker, and his father, a General Electric salesman. John vividly recalled his initiation into manhood that followed the Pearl Harbor bombing when he lined up with hundreds of young men at the enlistment in St. Louis, Missouri.  He started to doze a bit during the interview, so Robert suggested Marjorie join him to talk about the magical moment when they met at her sister's wedding. He was the best man and she was the maid of honor. Shortly, after they married on a foggy night, at a small church without a center aisle.
"Where was your first home?" Donna asked.
"Parking Lot C for LAX now," Marjorie said. "It was a tiny Marlow Burns tract house that we paid $3,700."
John and Marjorie held hands as they reminisced about the births of Larry and Richard born 21 months apart. Marjorie sent them off to pre-school and she went back to school to get her master's degree. She became a high school teacher and then assistant principal at Van Nuys High School. They were Little League parents. Their early life led into his career as a draftsman for General Petroleum, which eventually became Mobile Oil. Then Donna turned the interview back toward home and leisure.
"John do you have any hobbies?" Donna asked.
"Well how would you say it, family" John replied. "Yep, that pretty much sums it up."
"What about gardening?" Marjorie added.
"That's not a hobby," John grinned
The family collectively reminisced about holidays, traditions and family vacations. They spoke about their sons growing up and eventually leaving home to go off to college. Donna then turned the life review toward retirement and life reflections.
"So looking back on your life do you have any regrets?" Donna asked.
John sat back in the chair as all his family members leaned in. He closed his eyes to ponder the question.
"I didn't follow through on my goal," John said.
"What goal?" Marjorie asked with a look of puzzlement.
"Following up on my education. Of course, the biggest obstacle was money," John said.
"John, is there anything you want your family to know? " Donna asked.
His family patiently waited. For a man short on words, shorter on compliments, finding the voice to express what lay heavy on his heart was challenging. He expressed his love in action, not in words. He taught his sons by example not with long-winded speeches about morals and values. Just sitting back and observing their father's actions taught them how to be a good man, a good father.
John closed his eyes for so long that Donna thought he'd fallen asleep.
"John," she said.
"Well, I'm just glad they put up with me, I hope I was a good father because that's what's important to me," he said. "I'm proud of our family, you've all done well and I'm proud of what you've accomplished."
At that moment the room was silent with the exception of sniffles. Robert looked up from his camera to wipe his own glistening eyes. He turned the camera to pan the room for the family to express their feelings.
Through a misty gaze at his father, Larry said, "It's been really interesting to listen to what you have to say, I heard a lot of new things today, my respect for you and my love for you just grows."
Donna watched the Marting family console one another in long embraces and Robert turned off the camera. Donna never could predict what might transpire during a two-half hour interview but gathering the family together at the end usually pushed heartfelt emotions to the surface. That's really her goal to create an opportunity for her patient to share his or her life story but also for the family to sit, listen and respond. The video camera and interview helps everyone to focus on the present reality. It's hard to avoid your father dying when he's expressing his last words in a filmed interview for posterity.
Robert and Donna talked with Marjorie and John about their favorite music. Robert collected photographs of John's life from the family. The raw video footage and photographs would now return to Robert's classroom at Laurel High School where his students would help him edit the video.
The Making of a Life Movie
A few years ago, I answered an ad for a life review interviewer on Volunteermatch.com that led me to Donna Miller, now the director of volunteer services at Hospice Care of the West. I was interested in writing about her life review videos for my forthcoming book, Parting Ways. I leaned how as a volunteer, a friendly visitor at the bedside, she had spent hours listening to hospice patients reviewing their past lives and thought how valuable these precious pieces of family history would be for their children and grandchildren. Finally one day in autumn of 2005, she decided to ask one of her patients if he would be interested in recording his stories on a video camera in a life review interview to pass on to his daughters as a gift. His daughters joined him on the interview as he embarked on a fascinating journey retracing his life guided by Donna's list of questions to trigger reflections from his birth to the present.
Donna had cared for her own in-laws in her home at the end of their lives, but became so wrapped up in their physical care, she missed sitting down and recording their life stories. With their last breaths went generations of family history. She knew from personal and professional experience that families tied up with the rigors of terminal illnesses were too busy to do this themselves but open and grateful for Donna to come in and record one last conversation with their matriarch or patriarch. Shortly before I met Donna, she had connected with Robert Ostmann, high school teacher, at Laurel High School in Los Alamitos. She needed a volunteer video editor to marry the interviews with music and pictures that gave visual images to the stories shared in the interview. Robert and his students became her video editors and they called these classroom projects "life movies." They now give these videos as gifts to the families all produced with volunteered time and skills.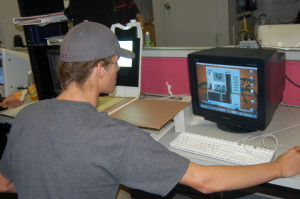 Andy Rooney once said, "The best classroom in the world is at the feet of an elderly person."  I decided to visit Robert and his students to see how they turned the interview into what they called "life movies" a documentary-style video with music and photos melded seamlessly together with the raw edited interview. At 9:01 a.m. the first bell rang at Laurel High School in Los Alamitos and the students poured through the doors of Mr. Ostmann's classroom, which looked more like a buzzing television newsroom stacked wall to wall with computers stations, video editing equipment and video cameras.
They worked diligently flipping through family photo albums and scanning photos into the computer. Others listened to life review interviews and cut them into clips to assemble on a story timeline in Final Cut Pro, a video-editing software program. On the computer screen, one man talked about what Los Angeles looked like with dirt roads and rumbling Model-Ts, how gas was only a nickel and the sound of high rises being built. A student commented on his project saying it was "like a California history lesson from orange groves to high rises." Mr. Ostmann was proud of his observation because that's one of his hopes in bringing these video projects into the classroom to teach the students about history, the building blocks of a story and how to find a narrative line. After they cut the video into clips grouped in different time periods and then they are challenged with assembling those video clips into a coherent narrative complemented by pictures and lastly music.
Mr. Ostmann uses the videos as a teaching tool about life progression—showing the students how these people's lives develop from playing as kids in school, growing into young single adults starting careers or going off to war, taking on the responsibility of nurturing a family, being a good parent, building a home, dealing with the reality of crises and illness.
The Premiere of the Life Movie
Twelve days after the interview, John took his last breath in the familiar comfort of home and family. His daughter-in-law called Donna to ask if it was possible to have the video to play at John's funeral. Robert Ostmann said it would be a squeeze but he and the students could probably pull it off.
The following Saturday morning, just over a 100 people filled the pews at Creekside Christian Fellowship in Irvine. After the dozen tributes, the lights dimmed, John appeared on a four-foot by four-foot screen at the front of the sanctuary to complete the portrait everyone tried so desperately to recreate of him. The song "I will remember you" by Sarah McLachlan played as a larger than life still photo of John smiling at his 50th Wedding Anniversary illuminated the silver screen at the front of the church. The still photo faded to black and John appeared on screen to introduce himself looking dapper at home.
John tells stories of his birth, birthplace and childhood complemented by a black and white baby picture of him in a sailor suit followed by a picture of John at 3 years old next to his tricycle in the front yard in Missouri. Photos of John on his father's shoulders and holding on to his mother's hand strolled across the screen to the faint hymn of "Amazing Grace".
On screen Donna asked, "What kind of child were you?"
John said, "small."
The laughter of his family on screen joined the audience laugher in the sanctuary. As John spoke about his years going off to war, images of the young marine, bent on one knee and lying down on his belly aiming his rifle, shot across the screen.  A close up of John and Marjorie's hands folded into one another came into focus as the song "Daisy Bell" and the lyrics he always sang to her "A Bicycle Built for Two" played. Marjorie narrated their love story.
"We were thrown together," she smiled and then squeezed John's hand.
Marjorie and John's commentary enlivened the medley of still photos of
their courtship, wedding and early years of parenthood. They sat on the front porch of their first home, held the hands of their sons while hiking on camping trips in Yosemite. As the documentary came to a close, John rested his head back in the chair and then leaned forward as if talking directly to the audience and said, "Looking back, I think I've done pretty well."
His words were marked by the family bathing him in love and affection followed by a slideshow harmonized by the Beatles song, "In My Life: There are places I Remember," sang by Judy Collins. At the end of the slide show a black screen darkened the sanctuary and Donna's voice could be heard saying, "Hey John", "Hey John".
The dark sanctuary was once more illuminated by John popping up his head from a blissful doze on screen and his voice exclaimed, "I'm just resting my eyes," followed by his familiar guttural belly laugh. The audience laughed along with John and then stood for an ovation as the credits rolled. It was spectacular.
Tears of joy slid out of Donna's eyes. "That was amazing," she whispered under her breath.
The pastor took the stage and was noticeably breath taken by the video.
"Wow, that was remarkable," he said. "I don't know if you all were thinking about what I was thinking but I have to ask, "Are we really saying the things we need to say to those we love? Are we leading the lives that we'd be proud of if we were in John's shoes being asked these questions at the end of life?"
After the service, Larry approached Donna in a long embrace.            
"Thank you…your timing was perfect, we said the things we needed to say and heard the things we needed to hear at the right time," Larry said. In that moment of loss the family gained. They gained John's life story told through his reflections and not hand-me down stories. People came up to the Marting family to give their condolences but also to express their awe over such a wonderfully told life story.
"I really felt like I got to know John," one woman said.
"This was the best service, I've ever been to," said one man and everyone crowded around agreed.
"It beautifully captured everything great about John his smile, his humor and his love for family," another man said.
Richard and his family gathered around Donna to again express their gratitude.
"His voice and his life story will be forever preserved," Richard said hugging Donna and almost sweeping her off her feet. "Thank you so much. Years from now his grandchildren will be able to meet and learn about their Great Great Grandfather John Marting and the incredible life he led."
Students Receive Recognition and Awards
A couple months later, the Los Alamitos School Board invited Robert and his students to be recognized for their devotion to hospice patients and their families. Before the ceremony, they gathered with Donna and the Marting family for dinner to celebrate. The Marting family spoke of how the video was the highlight of the memorial service. Richard watched the video a few times after the funeral and recapped his thoughts.
"In your mind you remember things from the past, you can look at still pictures," he said. "But having the video, it's like he's right here, since it's a conversation that we were involved in, it's not an 8 milometer-home movie of him pushing us on our bikes from years ago. It was so close to the end so it has real poignant meaning for us."
At the school board meeting, Robert introduced a sampler video that included the interview with John. The students rose for their honors and John Maxwell, stood like a director on Oscar night, to accept the certificate and standing ovation. Then, Richard Marting took the microphone.
"Excuse me for my misty eyes," Richard said. "We really wanted to come and give our thanks publicly to Robert Ostmann and his students for creating this life video of my father…The video taped interview provided us with a chance to turn the light on him, focus and listen to our father recollect 61 years of marriage and raising a family. We were able to learn about his greatest joys and regrets. When he was asked 'What are you most proud of in your life?' It was the first time I ever heard him say 'family'. When he was asked 'what was your greatest regret?" I'd never thought to ask him this, so having this forum really taught us something as well. His response was that he never went to college…I'm sure Robert's students learned a lot of technical skills from this process and walked away with a sense of accomplish that all of us receive when we finish a project, but I also hope that they took away a greater understanding of family and the love of a father and that's such a lesson that would make my dad proud."
Excerpt on Life Review Video from the recently released book Parting Ways: The New Rituals and Celebration of Life's Passing– by Denise Carson